Vintage Embroidery Patterns
Scans donated by Digital Archive, reedited Judith Adele. Woolwork embroidery, square piece intended for a cushion cover.
Printed in Strasburgh, print. Script, simple blackletter, German style script, and simle serif - all relatively narrow.
Charted multicolor pattern. Grove of cypress and weeping willow trees, surrounding an urn monument.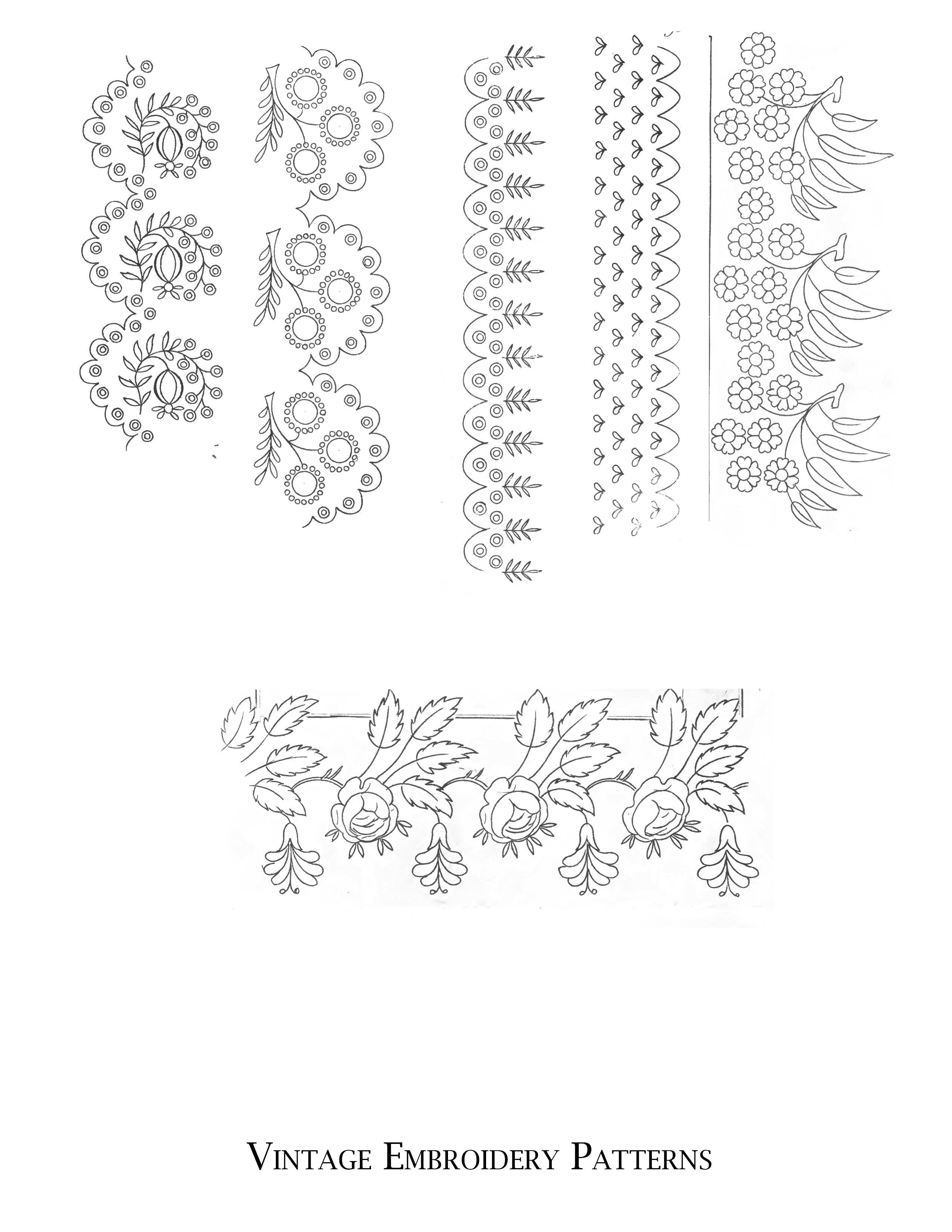 Suitable for Berlin woolwork, needlepoint, or cross-stitch. The alphabets were originally monochrome. Zweite Verbessterte Auflage. Filet, tasseled edgings, slippers, doilies, edgings, motifs, cross-stitch embroidery, bags, baby blanket, tennis belt, nut baskets, baby rattle, marine sofa pillow, baby bonnet, alphabet chart. Background not shown, in the description the color black is suggested.
Scans donated by Jackie Isler from her grandmothers collection. Title in German, French and Russian. Lovely floral medaillons on a green background. Japanese influenced vaguely Art Nouveaux style. Lavish laces for household and clothing, some unusual, includes new Irish Crochet motifs and filet charts an ostrich!
Borders, spot motifs, and corners. Attributed to Heinrich Kuehn, Berlin, but no indication of maker. Off der Laden Und nach der Tal. No publisher or author mentioned. Full color illustrations of finished items.
Can also be used for cross-stitch, needlepoint, and beading. Edges, initials, monograms, motifs. Suitable for cross-stitch with double running or back stitch. Slipper pattern with rose and forget-me-not motifs, rounded-off top instead of the usual straight edge. Scans donated and charted by Sytske Wijnsma.
Handpainted, the paint worn through in spots. The bag is lined, and reinforced at the edges with green cord. Pattern in gold and green curls on a red and blue background. From the collection of Mary Fennema, published by kind permission of the copyright holder, Vrouwen Van Nu. Scans donated by Jackie Isler, from the collection of her grandmother.
Instructions in Silk Embroidery, Knitting and Crocheting, Illustrated with cuts, half tones and color plates. Sewing patterns for Aube and church linens in French. While the patterns themselves are not available on this site, you can get plenty of good ideas for embroidery here. Artifact photo of a lovely beaded tray, with a central hexagonal motif and rose motifs at the sides.
Filet charts, including church lace and alphabets. Stitch direction is indicated for the larger alphabets. Repeating pattern for a wide border.
One page from a leporello, showing the Holy Spirit as dove, and the Lamb of God lying down with a cross, and a border with cross motifs. Charts and drawings, plus some photos fo finished pieces.
Vintage Embroidery Free Patterns
Redactrice et chef Baronne de Manonville. Part of the collection of the Rijksmuseum Research Library, published with permission.
Suitable for cross-stitch, needlepoint, Berlin woolwork, and beading. Possibly a frament of a larger leporello folded booklet. Intended for Berlin Woolwork, can also be used for cross-stitch, needlepoint, and beading. Combines block units with linear stitching.
Easy-to-read modern redo of the charts is provided. Crocheted lace edgings, insertions, backgrounds for bags, medallions, table linens, doilies, fringes, tassels.
Undated but probably quite early. Bonnet looks like a baby bonnet. Corners, edges, four powdering patterns. Italian language booklet on Intaglio cutwork and openwork embroidery that incorporates needle lace. They are perfect for embellishing household goods, clothing, tote bags, etc.
Pictures of Hand Embroidery. Silk knitting, crocheting, embroidery instructions and patterns for women's, men's and baby clothing, transformice household items and many bags and purses.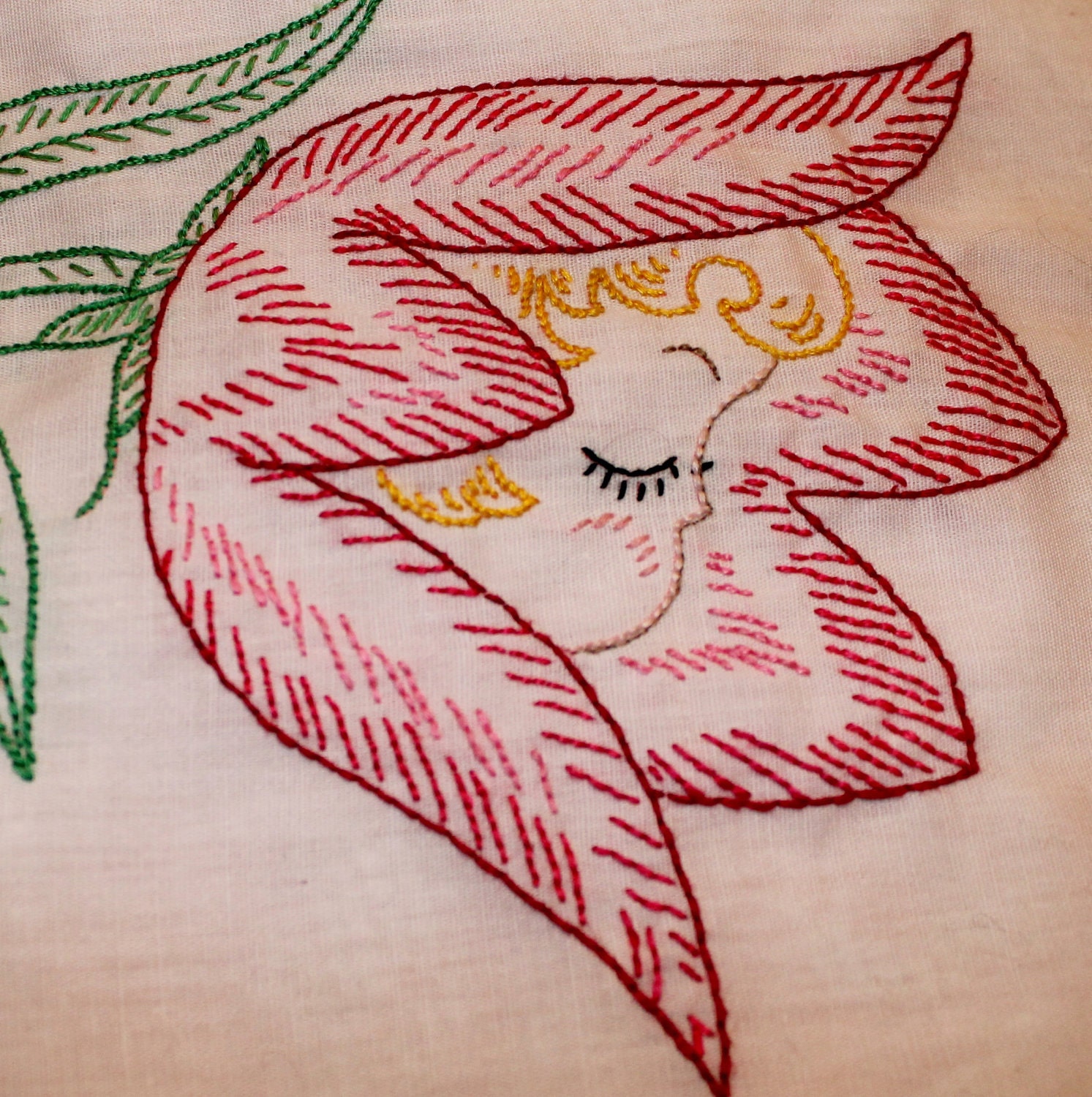 Embroidery resources
Croatian language folio of pattern charts and illustratoins, with introduction and indexed descriptions of samples shown. Originally on a single sheet, each has an extra small motif tucked into an open space. Can also be used for cross-stitch, needlepoint and beading. These are four baskets in a series of four.
The impression is that it's decorated with flowers, but the size is quite small and the flowers are more suggested than detailed. Also lots of articles, columns, and advertisements of the era.
This publication also has all of the embroidery patterns included in the Portfolio donated by Sytske Wijnsma, not included in this pdf file. Color possibilities suggested by grayscale. Very flapper, nowadays suitable to embellishment of shirts, blouses, dresses. Suitable for cross-stitch, tapisserie. Scanned, edited and charted by Sytske Wijnsma.
Scans donated by Tamara Tiekstra, edited by Sytske Wijnsma. Original charts plus modern recharting provided for the folio pages. Collars, purses, curtains, portieres, doilies, lace caps, and of course lots of borders, corners, and medaillons.